Associated Insurance Plans International, Inc., We are ready to assist you in maintaining your healthy lifestyle when you are outside of your home country.
Please click the insurance plan comparison below to view and enroll in our international student insurance plans .  All plans on the comparison are available to students traveling to and from the United States. If you have any questions, please email us at office@aipinternational.com or call us at (800) 452-5772.
Are you looking for a group quote? Please contact us for a customized group quote at office@aipinternational.com or call (800) 452-5772 and we'll work with you in providing the benefits you need for an affordable price.
Students, Dependents & OPT
NOTE: O.P.T. (Optional Practical Training) for Students on a J1 or F1 visa, (Students on a M-1 visa or any other category, must be affiliated with an accredited educational institution and performing work or research of at least 30 hrs. per week.)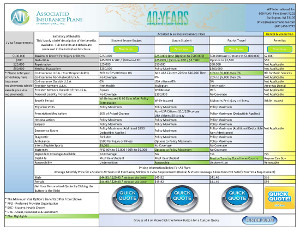 Not A Student?
The following plans are not shown on the comparison above, but these plans will be of interest to you if you are not a student, and traveling outside your home country.
Global Medical Insurance (Long Term with or without maternity) Global Medical Insurance® - Quote (imglobal.com)
International Travel Insurance (5 days to 24 months) – Insure your Health Inbound and Outbound from us (Click Here)
Short – Term Vacation Insurance – Emergency accident and health coverage and trip cancellation protection (Click Here)
Dental Vision Insurance (Coverage in the United States) to individuals under age 65 (Click Here)
NOTE: When you enroll in any of the health insurance programs, you may elect to receive your I.D. card and plan documents by email immediately or by U.S. mail. When you enroll in the Dental or Vision program, ID cards and plan documents are sent to you by U.S. mail for receipt within 10 business days.
NOTE: Coverage can be effective as soon as the following day for all of these insurance plans.